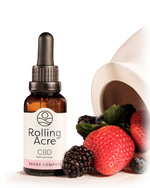 Live Brighter.
We at Rolling Acre believe CBD and CBG remedies should be safe, clean, taste good, and affordable! This is why we put so much care into crafting our small batch proprietary blend of 1000mg CBD or CBG, MCT Oil, and delicious all-natural flavor. What is the difference between CBD and CBG? Learn More.
SHOP NOW
It's All Good
We feel quality matters, especially when helping you along your wellness journey. Our standards are high. From seed to bottle - we measure quality at every juncture.
Harvested for Health
You know that feeling of watching the sun rise and set - just living in the moment? We aim to bottle that feeling. Our full spectrum hemp oil helps you live a little better & brighter, all in a day's drop.
Rest
Relax
Recover
Farm Grown Flavor
As farmers, we know a thing or two about quality ingredients. There's nothing like picking up some fresh herbs and produce from the farmers market - until now. We want your experience with cannabinoids to be a step above results, although we deliver those too. That's why we've paid good attention to sourcing natural, robust flavors that elevate your wellness experience.
Explore the Range
Our selections include Full Spectrum CBD and CBG Tinctures made with MCT Oil for both humans and pets. Our human tinctures come in a variety of all-natural flavors - peppermint, orange blossom, berry compote, lemon, and unflavored. Our pet tinctures are available in bacon and chicken, crafted with human grade ingredients for those with a savory palette.