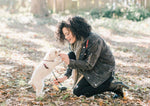 If you've read our previous blogs, then you'd know that humans have an endocannabinoid system, including receptors, that make it able to interact with cannabinoids (what's in our tinctures and honey). But did you know your fur babies have endocannabinoid systems too? This means your dogs and cats are able to enjoy CBD and other cannabinoid oils just as much as you.
Currently, several studies are in progress to study the effects of CBD and other cannabinoids on dogs with health conditions. One such study conducted by the Colorado State University's College of Veterinary Medicine and Biomedical Sciences is being sponsored by the AKC Canine Foundation (CHF) to evaluate the use of CBD oils in dogs with treatment-resistant epilepsy. The results of this study could provide the first scientific proof of CBD's beneficial effects on mammals. Until then, we rely on human testimony as more and more people see the benefits of giving cannabinoid oils to their pets. So how do you safely try CBD with yours?
Look for natural.
Just like your pet's food, the cannabinoids you give them should be free of any unnatural chemicals like pesticides or solvents that cause more harm than good. Our CBD and CBG products are made with non-toxic ingredients utilizing all-natural farm practices to make sure the oils are pure and without toxic byproducts. Unfortunately, the most obvious marker of a poorly-made cannabinoid oil is the price point. Be wary of any product whose price falls way below the standard. They are almost certainly taking shortcuts to reduce the costs and that often includes unnatural grow and extraction practices.
Third-party certified.
Manufacturers with integrity want to guarantee the purity of their product. If they've done their job correctly, third-party testing should only add to the reputation of their products by demonstrating a sound chemical composition. For this reason, you should look for cannabinoid companies that include a certificate with your purchase explaining exactly what's in the oil—how much CBD and other cannabinoids, including THC. While full-spectrum products like our CBD tinctures will always contain trace amounts of THC, you'll have very little chance of mind-altering effects if the product contains less than 0.5% THC.
Buy liquid.
On the pet market, you'll find all kinds of products that have CBD and other cannabinoids in them, such as dog treats or catnip. However, the amount of cannabinoids in those products can vary wildly. For that reason, it's best to administer the cannabinoids yourself via liquid drops. This way, you can adjust accordingly if needed.
Trying out a new product on your fur baby can be nerve-racking. However, when armed with knowledge, trust-worthy products and control, you can make the experience of CBD a good one for your pets. Explore our pet-approved flavors in the store to get started on your pet's journey with Rolling Acre.