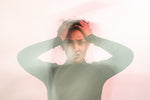 In psychology, anxiety is described as an essential mechanism for survival when faced with unexpected or potentially dangerous situations or conditions and characterized by heightened states of vigilance and responsiveness while trying to prevent or reduce harm.
As mental health awareness blossoms, rooted conditions of the psyche continue to plague a large portion of the population, especially in the epilogue of lockdowns due to COVID-19. In fact, according to the National Institute of Mental Health, nearly one-third of adults in America recognize any anxiety disorders, such as panic disorder, OCD, social or separation anxiety disorders, PTSD, generalized anxiety disorder, and phobias, as affecting them personally at some point in their lives.
Thankfully, the hemp/cannabis plant has another built-in cannabinoid to combat anxiety; cannabidiol (CBD). 
How does CBD work in the body?
Our bodies are amazingly complex and full of surprises!
The discovery of the endocannabinoid system in the 1990's established a network of receptors, enzymes, and endocannabinoids (cannabinoid molecules produced by the body) known to regulate and balance important bodily functions such as energy levels, immune functions, and emotional behaviors, which could help explain why CBD and other phytocannabinoids (cannabinoids produced in the cannabis plant) may assist with many symptoms within the body, including anxiety.
When talking about anxiety, another key system in the body is serotonin, which is responsible for behavioral, digestive, sleep, and mood functions. Serotonin levels are linked to the regulation of anxiety and, with CBD's ability to interact directly with the serotonin 5-HT1A receptor, scientists are beginning to understand how our body works to alleviate anxiety with CBD in a similar fashion as current antidepressants.
Does CBD reduce anxiety?
Due to how CBD interacts with our bodies, many researchers agree current evidence suggests CBD's helpful role in downplaying anxieties.
A 2015 scientific review of 49 studies showed strong potential for anxiety reducing properties in CBD to be studied further in clinical trials, particularly for anxiety disorders like PD, SAD, OCD, GAD, and PTSD.
In 2019, a double-blind clinical study of 37 Japanese teenagers diagnosed with social anxiety and avoidant personality disorders used a placebo control group to determine if the group receiving 300mg of CBD oil daily for 4 weeks would experience reduced anxiety. Using both professional psychiatrist interviews and respected self-reported scales the results showed lower levels of reported anxiety in the CBD group and relatively no change for the placebo group.
Another 2019 study retroactively reviewed charts of about 100 patients with documented anxiety or sleep disorders who were treated with 25-75mg CBD capsules daily for 1-3 months and found that self-reported anxiety decreased within the first month and remained at the lower levels for many patients, while sleep disorder patients showed mild improvement over time.
How to use CBD for Anxiety
The findings state a strong case for more CBD research in a growing field and we are here for it!
If you are intrigued and interested in taking CBD yourself, always speak to your doctor first for recommendations. There are many different methods of using CBD, but when it comes to addressing anxiety, some methods may be better than others. For example, topical salves probably won't help with your internal angst, but here are a few items that will!
Recommended methods for taking CBD for anxiety:
Oils and tinctures
Capsules
Smoking or vaping
How you take CBD matters and will likely be different for everyone.
The time it takes the CBD to reach your bloodstream is the biggest difference between ingesting and inhaling. If you seek more immediate relief for occasional stress and anxiety, then you can consider CBD options to inhale for faster results. Ingesting CBD through oil tinctures, which can be taken directly under the tongue or added to your favorite tea, coffee, or brownie recipe, is one of the best methods to treat long-term anxiety disorders. Adding CBD oil to your daily routine allows for more flexibility in dosing than capsules typically used in clinical studies.
CBD Dosages for Anxiety
One of the biggest obstacles in clinical testing has been figuring out the dosing schedule for a diverse sample of people, but you and your doctor can personally monitor how CBD makes you feel and adjust accordingly. Consider whether a fixed or flexible cycle of CBD doses are right for you. As you figure out your ideal dose, remember to stick to the motto 'start low and go slow'.
For anxiety, try 20mg once a day or even 300mg over the course of the day and check in with your doctor with any changes you may notice. According to the World Health Organization, clinical doses are usually around 100mg-800mg per day and CBD is well tolerated without addictive properties, making an overdose very unlikely.
Is CBD Safe? (Risks and Limitations)
Of course, as with any treatment, there are a few draw-backs to keep in mind.
CBD could serve as a helpful aid against anxiety and stress, however could have a few side effects (usually with larger doses) including stomach issues like nausea or diarrhea, lightheadedness or headaches, and drowsiness or low energy levels. Additionally, some companies may not properly disclose ingredients or doses on the label and because CBD products are not yet regulated by the FDA as a medication, an imbalance of quality control and safety standards currently exists in the industry.
Buyers should always verify safety standards and check for third party testing with a trustworthy CBD brand, like Rolling Acre, for best results and brighter days.
Have you thought about CBG for anxiety?
There are an array of benefits from CBG as well.  Learn more about CBG in our
Experts Guide to CBG.