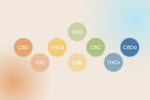 The Rolling Spectrum of Cannabinoids
If you've delved into the world of CBD and cannabis products, you've probably seen your fair share of the word "spectrum". Full-spectrum, broad-spectrum, and isolates. There's a place on the spectrum for all hemp products.
Spectrum may not mean a thing to you other than as the name of a well-known internet service provider or as a color terminology. However, we're not talking about slow internet or "ROYGBIV". Cannabis spectrums simply refer to the ways in which the cannabis product was processed.
To get cannabinoids from hemp or cannabis plants, they have to be extracted with a strong solvent like CO2 or ethanol. At Rolling Acre, we use an extraction process where organic food-grade ethanol is passed through our hemp flower and brought to a gentle boil. During this process, the hemp is cradled against the ethanol to create a natural friction that produces a vapor full of beneficial cannabinoid compounds.
Hemp extracts contain little to no THC, but high levels of CBD (we extract our CBD from the organic, pesticide-free hemp we grow at Rolling Acre Farms). Then, what happens next determines if the extract is full-spectrum, broad-spectrum, or CBD isolate.
So, what's the difference between these 3 canna-buzz words, and how does it affect you as a fledgling hemp aficionado?
FULL-SPECTRUM
An extract is full-spectrum if it contains the "full spectrum" of cannabinoids. The thought behind full-spectrum extracts is that the more cannabinoids are extracted from the hemp plant, the better they work together. This is known as the entourage effect (we'll discuss that further in the following sections). Full-spectrum extracts contain small amounts of THC (<0.3%), but can still trigger a false positive on a drug test if the extract is consumed in high amounts (it's very unlikely).
There are some people, too, that prefer to have CBD and all the other cannabinoids without THC altogether. Although such small amounts of THC don't trigger any mind-altering effects, there are some who may shy away from those three letters altogether (we're not recommending that you do).
But that brings us to broad-spectrum extracts.
BROAD-SPECTRUM
Broad-spectrum extracts contain all the cannabinoids that hemp has to offer, without THC. If you are worried about THC showing up on a drug test, or just want to stray away from ingesting THC period, then broad-spectrum is a viable option. It will give you the entourage effect, containing the entire cannabinoid spectrum (including CBD), but without THC.
Some of the additional cannabinoids found in full and broad-spectrum extracts include CBD, CBC, CBG, CBDA, and CBDV. While using the entire spectrum can help increase the therapeutic effects of each cannabinoid, it can also cause inconsistencies in the levels of CBD and THC found in extracts.
When the CBD is isolated from the extract, you know exactly what you're getting (CBD), and how much.
ISOLATE
CBD isolate is the purest form of the CBD compound. CBD isolate is essentially extracted twice in the preparation process, first from the hemp plant and then from the rest of the cannabinoids until only cannabidiol (CBD) is left.
With isolate, you don't get the entourage effect that occurs when all the cannabinoids in hemp extract band together and amplify each others' effects (while mitigating any negative effects individual cannabinoids may have). If you're just looking for CBD and CBD only, it could be the right choice. We're here to educate and help, not tell you what's right for your well-being. Only you can decide that.
SUMMING UP THE SPECTRUM
Depending on why you're looking to experiment with hemp and cannabinoids, there are many options. Every human being has the capacity to be helped by the hemp plant and the cannabinoids it contains. That's why we have cannabinoid receptors.
Most of our products are full-spectrum—we prefer not to strip away the possible benefits that come with the full spectrum of cannabinoids. From farm to table, our hemp products don't lose any of their healing, holistic qualities. However, if you're staunch on getting the purest isolate of CBD, we do carry honey sticks infused with CBD isolate.
If you still have questions about the right hemp product for you, and whether you should go for full-spectrum, broad-spectrum, or CBD isolate, then get in touch with us – or, try one at a time and see what feels best for your body.