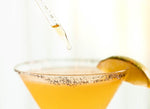 4 Easy to Make CBD Cocktails [2021 Ultimate Guide]
With so many applications for CBD, it is not surprising that combining CBD and alcohol has become one of the fastest growing trends in cannabis.
If you're ready to jump on the CBD cocktail bandwagon then you're in luck because we have 4 easy to make CBD cocktails you can make at home right now (if it is at least 5pm, of course).
For our CBD infused drinks the base will be CBD tincture.
You can use any one of your favorite CBD tinctures however for our purposes we will be using CBD tincture from Rolling Acre.
Rolling Acre is a CBD company based out of Pennsylvania and they use only the finest ingredients with their cannabinoids that go directly from their farm to your home.
Why Mix CBD and Alcohol?
When it comes to unwinding after a long day, CBD is known to help jumpstart the unwinding process.
Alcohol (specifically cocktails), is also known to be a favorite for those trying to unwind and enjoy a happy hour or nightcap with their peers.
When you mix CBD and alcohol not only does it add extra flavor, but also naturally stimulates your internal endocannabinoid system.
So if you're going to enjoy a cocktail, why not infuse it with CBD to get some extra added benefits?
So now that we have you convinced, let's jump right in and start making some classic cocktails infused with CBD!


Medicinal Moscow Mule
The classic Moscow Mule gets even better with a bit of lemon flavored CBD tincture. CBD itself has a very earthy flavor naturally, but with notes of lemon to compliment the drink's citrus and herbal ingredients, it works perfectly.
Ingredients:
2 oz. of your favorite vodka
1 oz. of fresh lime juice
½ cup of Ginger Beer
Crushed ice
Mint leaves
1 lime wedge for garnish
2-3 drops of lemon flavored CBD tincture
Step 1: Fill a copper mug (or glass) with crushed ice (or cubes)
Step 2: Combine 2 oz. of vodka & 1 oz of lime juice and pour into mug
Step 3: Top off with ginger beer
Step 4: Stir your concoction
Step 5: Squeeze your lime wedge and throw the remaining lime wedge in to the drink
Step 6: Add 2-3 drops of CBD tincture using the dropper
Step 7: Add mint garnish
And that's it! Go ahead and sip away.


Hemp Hot Toddy
With autumn upon us and winter fast-approaching, your days are getting colder and your drinks hotter.
Nothing compliments these seasons better than a hot toddy.
With our Hemp Hot Toddy, we took this classic up another notch.
Ingredients:
1 stick of Rolling Acre's honey infused with CBD isolate
tablespoon of lemon juice
teaspoon of ground cinnamon,
teaspoon of cloves
teaspoon of nutmeg
Step 1: Pour 7 ounces of your favorite hot black tea and a shot of your preferred whiskey into a glass mug.
Step 2: Swirl a stick of honey into the tea until melted.
Step 3: Garnish with a few drops of lemon-flavored CBD oil.
Step 4: Top with a lemon wedge
And now you're ready to cozy up with the perfect Hemp Hot Toddy that'll really help you chill through the chill.


Strawberry CBD Daiquiri
When you think "strawberry daiquiri", you think palm trees, sunshine and poolside relaxation. Even though we can't promise a tropical destination, we can deliver on the relaxation with our Strawberry CBD Daiquiri.
Ingredients:
Step 1: Add all ingredients to a blender
Step 2: Blend until strawberries are pureed and the mixture is smooth
Voila! You've got a cannabis-ized frozen strawberry daiquiri. With this beauty in hand, you may just feel like you're in paradise.


Nightcap
CBD oils can go into just about any drink, hot or cold; there's CBD wine, or your own CBD seltzer. However, like with anything we recommend, we're always going to suggest you use only the highest quality ingredients.
Now whip out your bartending kit and let's get your relaxation in motion with one of our preferred CBD nightcap cocktails.
Ingredients:
2 oz rum
2 oz Cold-brew coffee
1/2 oz Grade A maple syrup
1 tsp Orange zest
1 dash Angostura bitters
Tonic water, to top
2-3 drops of Rolling Acre's Orange Blossom CBD Oil
Orange peel (for garnish)
Step 1: Add all ingredients except the tonic water to a shaker with ice and shake until chilled.
Step 2: Strain into a highball glass over fresh ice.
Step 3: Top with tonic and gently stir.
Step 4: Garnish with an orange peel and enjoy!
Conclusion
So, we just went over 4 great ways you can combine CBD and alcohol with your cocktails. Beyond our suggestions, you really can mix CBD with unlimited types of cocktails.
In fact, this article would be a lot shorter if it covered the cocktails that CBD oil can't go in (it would be blank).
Which cocktails are you buzzing to try?
Or, did you create any of our favorites?
Let us know in the comments below, or give us your most off-the-wall ideas for mixing CBD with alcohol.
You can also tag us with a photo of your cocktail on Instagram or Facebook, or simply share the link to these recipes with your friends and family!
And to get more creative with your cocktail, Rolling Acre offers 4 flavors: peppermint, lemon, orange blossom, and berry compote.
Can't wait to see what you come up with!