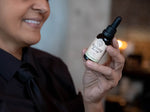 Common Concerns About CBD
You have some concerns about CBD, and we have answers.
Though CBD has been researched and talked about heavily in the past few years, we still get loads of questions touching on many of the same concerns.
Could I fail a drug test? What's the difference between hemp and marijuana? What are the other ingredients in CBD tinctures/oils, and could they be harmful?
So, let's cut through all the convolution and address some of these concerns directly, so you can start your wellness journey without fear.
Will I get high from CBD? Can I fail a drug test from using CBD?
The short answer: no to the first, and possibly to the second question. THC is the only cannabinoid that will get you high, and for CBD tinctures to be legal, they have to contain less than 0.3% THC.
That's such a small amount that it won't get you high. However, any amount is liable to trigger a positive drug test. It's happened before, but it's unlikely.
If you're afraid of failing a drug test, you may want to tell your boss you are taking CBD beforehand so there aren't any problems later. Or, try a CBD/CBG isolate, or broad-spectrum CBD tinctures (with the THC removed).
Otherwise, it's probably wisest to go with full-spectrum CBD oil, because cannabinoids work better when they're all in it together.
Is CBD legal?
Yep. CBD is completely legal. But promising benefits when they can't be promised for certain is not legal, according to the FDA.
So make sure you're buying it from a reliable source that doesn't make outrageous claims like CBD being a cure-all or miracle medicine.
Before you buy, make sure the company you're buying from supplies test results (from a third party), full ingredients, and remember:
You get what you pay for. Check out our ultimate CBD buyers guide for more on checking suppliers' test results.
What's the difference between hemp and marijuana?
The difference between hemp and marijuana trips up a lot of people. How are cannabis, hemp, and marijuana different?
Remember it like this: hemp and marijuana are the two types of cannabis. Marijuana has THC, which gets you high, but hemp contains low amounts of THC (less than 0.3% THC makes the plant hemp). Rolling Acre Farms' (out of Pennsylvania), for example, contains 0.14% THC, according to test results. That's less than half the maximum amount.
The farm at Rolling Acre grows hemp, not marijuana. Cannabis refers to both plants, and a broad array of cannabinoids are found in both plants, but the main difference is the level of THC.
Is CBD safe?
Yes. According to the World Health Organization (WHO) and Harvard,
"In humans, CBD exhibits no effects indicative of any abuse or dependence potential…. To date, there is no evidence of public health related problems associated with the use of pure CBD."
Pure CBD is essential, though. You've got to ensure you're buying pure CBD by checking out a CBD company's test results. Make sure they're being tested by an outside agency and listing the amounts of each cannabinoid in their results.
Can I overdose on CBD?
WHO weighs in on this question as well in a 2017 report on CBD.  While there can be mild side effects such as nausea, diarrhea, and fatigue, these were resolved by simply lowering the next dose.
Can I drive under the effects of CBD?
CBD and CBG won't alter your state of mind, so driving should be no problem. You may want to take a test dose before driving just to see how sleepy CBD might make you.
Why doesn't everybody use CBD?
Everyone is different.
Not everybody experiences the benefits of CBD, and some may not need to. Just like you may not need to take blood pressure medicine or wear glasses, many do need those things.
Plus, CBD is still fairly new. We still don't know what cannabinoids can truly do, because we need more time.
But there's nothing stopping you from doing first-hand research on the benefits of CBD.
We hope this article has helped quell some of your doubts about CBD, and that you've maybe even learned something by reading this far.
If you liked this article, check out our guide to all things cannabis and check out the products we offer on the Rolling Acre Farms shop, like CBD and CBG tinctures.