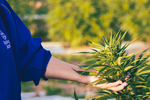 The Importance of your CBD Source
In the hemp, cannabis and CBD world, there's nothing more important than your source. You want local hemp grown by a caring hand, and naturally made CBD free of contaminants.
With so many options out there and CBD sold in every remote corner of the internet, finding a quality, trusted source can be intimidating, unless you know where to look.
That means finding a CBD company (with their own farm) growing their own certified American hemp.
Not all CBD is created equal
Just like pizza, not all CBD is created equal.
Rich Roush, principal farmer and owner of Rolling Acre, teamed up with local news station abc27 to explain what to look for in quality CBD. Special thanks to abc27 for this clip.
Unless CBD retailers clearly state whether they grow their own hemp or where they're buying their hemp, it's likely that they're importing unregulated hemp from abroad––most commonly, China, where regulations are nonexistent and hemp is used as a cover crop.
Rolling Acre plants and harvests our own hemp on the same grounds where we make our crystal-clear CBD and CBG tinctures. That's how it should be. Here's why.
Domestic vs. Imported Hemp 
Since the passing of the 2018 Farm Bill, domestic hemp production has skyrocketed.
The 2018 Farm Bill not only legalizes hemp farming––it set the standards of American hemp sky-high.
Legally grown U.S.A. made hemp must be free of pesticides, and contain <0.3% THC.
It's also miles more trustworthy if you know exactly what farm your hemp is coming from. Plus, local/regional hemp makes a fresher, cleaner product.
CBD is just one cannabinoid that comes from the hemp plant. So, the best CBD products, like tinctures and oils, by definition come from the highest-quality hemp plants, grown without the use of pesticides by farming experts.
When hemp is grown on the same farm where CBD oils are made, it doesn't have to travel across the world, accruing contaminants.
About 70% of U.S. hemp comes from China. In China, hemp is used to suck out the pollutants, pesticides, and contaminants in soil, in order to grow food crops, like soy and corn. It's a cover crop that they are using to cash in on the hemp and cannabis boom overseas.
Jason Cranford, a cannabis farmer in the Rockies, said this about foreign vs. American hemp:
"If it's not USDA Organic certified, and it's not full panel lab tested, you have no way of knowing what you're getting."
We're not waiting months for contaminated hemp shipments from China––we're walking to the greenhouse and fields to pick our natural hemp flower by hand.
We know that finding a good, quality, tested CBD product can be intimidating . Read our Ultimate 2021 CBD Buyers Guide to know exactly what to look for in CBD products..
Taking shortcuts won't get you anywhere when it comes to your wellness, and that rings especially true when looking for the best quality CBD and cannabinoid products.
But, it doesn't have to be so complicated. Keep a checklist when researching brands online––
Domestic? Check. Third-party tested? Check. Grown on their own farm? Double check. Pesticide/PGR free? Check. Local? Bonus check.
Soon, you'll have a brand that will stay faithfully by your side on your cannabidiol (CBD) crusade.
If you have any questions for us, we'd love to hear from you on our Facebook or Instagram!
Live brightly!