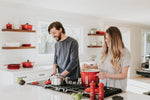 The Ultimate Guide to Cooking & Baking with CBD Oil
There is a CBD boom in the culinary world.
From cannabis restaurants to cooking shows, cooking with cannabis is, more and more, becoming a staple of the hemp industry.
If CBD plays a regular role in your life, it's likely you've come across a CBD recipe or two.
There are CBD cookies, CBD sauces, CBD butter—we've even come across a few CBD cocktail recipes that we quite enjoy!
Is CBD in Food & Drinks Legal?
Unlike THC—the cannabinoid responsible for giving you a high—CBD derived from hemp has been legal in the US since the passing of the 2018 Farm Bill. According to the legislation, CBD products containing less than 0.3% THC are perfectly legal.
The issue which arises is that studies have shown that nearly 70% of CBD products are mislabeled for the amounts of CBD and THC they contain!
At the federal level, CBD in food and drink is still illegal. But not when you make the food and drink yourself, in the comfort of your own home! 
Want to know more about the legality of CBD in food and drinks?  Read our article from last month where we do a deeper dive into the subject.
How do you Know what you're Getting when Buying CBD Products?
Until there is more regulation at the federal level, a discerning CBD buyer should look for CBD products like ours which are third party tested and come with a Certificate of Analysis or a COA.
Another concern should be heavy metals and pesticide residue in your CBD. The hemp plant is known as a "bioaccumulating" plant—a fancy term to say that it readily absorbs things (good and bad) very easily.
This is why the Rolling Acre Farm meticulously keeps the growing conditions for our hemp safe from dangerous soil conditions through testing and natural fertilizers. You can read more on our FAQ page.
Tips for Cooking & Baking with CBD Oil
Given all the potential benefits of CBD and CBG—relaxation, lowered inflammation, sleep regulation—it makes sense to find ways to incorporate them into your diet. Especially so, considering the delicious flavors that Rolling Acre Full-Spectrum CBD tinctures come in!
Here are a few more hints as you consider cooking with CBD. Also keeping scrolling for some of our favorite CBD recipes!
Heat
Heat and CBD have a problematic relationship. From aromatic mishaps to baking out all the CBD benefits, there are a few things to avoid when cooking with CBD.
CBD can begin to break down between 320 and 360 degrees Fahrenheit. Another issue is the loss of terpenes due to heat. Terpenes are aromatic molecules that work with CBD molecules to enhance their medicinal properties.
As such, if you're baking with CBD oil, we suggest a low temperature (340 degrees or below). Aside from baking, we suggest avoiding putting your CBD oils on direct heat altogether. Don't try frying your eggs in CBD oil!
Often, CBD oils work best in recipes when it's being added to sauces, oil-based dressings, smoothies, or other foods that don't need to be heated.
Storage
Another question often asked is how to store your CBD foods.
Heat and light can break CBD over time, so we suggest keeping your CBD cookies in the fridge or some other cool, dark, dry place. The CBD itself is likely to stay good up to 18 months.
Combine with fats & oils
We also suggest that you incorporate CBD especially into your high-fat meals. This can be anything from less-than-healthy fish and chips to coconut milk and almond butter.
According to no nutritionist Jodi Allen, when taken with a high-fat meal, CBD absorption in the body increases by 4 to 5 times!
Dosage
It can be tricky to figure out just how much CBD to use in a recipe. The tried-and-true method of all CBD cooking is starting off with a small dose and slowly working your way to higher doses.
This allows you to find the amount that works best for you!
Our Favorite CBD Oil Recipes
CBD-Infused Guacamole
*credit: Creating Better Days
INGREDIENTS
3 medium ripe avocados, peeled, halved, and seeded
1 tbsp lime juice
½ tsp kosher salt
½ tsp ground cumin
¼ tsp ground cayenne pepper
½ medium onion, finely diced
2 small tomatoes, seeded and diced
1 large garlic clove, minced
1 tbsp fresh cilantro leaves, chopped
½ jalapeno pepper, finely chopped
1 mL of Rolling Acre Full Spectrum CBD tincture
DIRECTIONS
Place the avocados in a mortar or bowl and mash them with a fork or pestle.
Add the salt, cumin, garlic, cayenne pepper, cilantro, onion, jalapeno, tomatoes, and lime juice. Top the mixture with your full-spectrum CBD oil and stir to combine.
Cover the bowl with plastic wrap and let the guacamole sit at room temperature for 2 hours before serving.
CBD Cookie Bars
*credit: Popsugar
INGREDIENTS
1/4 cup butter
2 tablespoons Rolling Acre CBD tincture
1 cup graham cracker crumbs
1 cup graham cracker chunks
1 cup dark chocolate chips (save 1/8 cup to sprinkle on top at the end)
1 cup chopped walnuts
1 cup flaked coconut (save 1/4 cup to sprinkle on top at the end)
1/2 cup caramel chips
14 ounces sweetened condensed milk (1 can)
Nonstick cooking spray
DIRECTIONS
Preheat oven to 325ºF. Using nonstick cooking spray, coat an 11x7-inch baking pan. Make sure to use a thin coat and spread evenly. If you use too much, the bars may turn out oily.
Melt butter over low heat. Once melted, combine the butter and CBD oil with a whisk in a small mixing bowl. Add graham cracker crumbs and continue to stir.
Transfer the cookie mixture to the bottom of the nonstick baking pan. Add larger graham cracker chunks on top and press down firmly with a fork. The graham cracker chunks will ensure a soft, chewy cookie bar, so be sure not to skip this step.
Pour sweetened condensed milk over the graham crackers and crumb mixture. Use a spoon to coat the entire pan evenly and to reach all crevices.
Add an even layer of chocolate chips. Save about 1/8 of a cup to layer on top at the end.
Continue to add even layers of chopped walnuts and caramel chips. Next, add coconut flakes. Save about 1/4 of cup to layer on top at the end.
Once all layers have been added, use your fork to lightly press down all of the ingredients. Place the pan into the oven and bake for 25 minutes.
Remove the pan from the oven. Be aware that some of the condensed milk may rise up around the edges because of the heat, so use your leftover chocolate chips and coconut flakes to cover any open areas. Bake for another 5 minutes.
Remove from heat and let cool. Cut into bite-size bars and serve in individual baking cups. Be sure to store at room temperature to best preserve them. Enjoy!
Yield
15-20 servings
Total Time
39 minutes, 59 seconds
Green CBD Oil Smoothie (Vegan, Gluten-Free)
*credit: Sharon Palmer
INGREDIENTS
1 cup packed greens (i.e., kale, chard, spinach)
1 medium banana
17 mg Rolling Acre CBD tincture
2 tablespoons hemp seeds
½ small avocado
¾ cup soymilk, plain, unsweetened (may substitute for another type of protein-rich plant-based milk)
1 teaspoon lemon juice
INSTRUCTIONS
Place all items in a blender and process a few minutes until smooth and creamy.
Pour into a large glass and enjoy!
Heading to the kitchen now? Make sure to tag us when you post your CBD food creations on FB/IG! Bon Appetit!