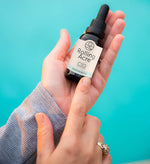 Don't get it twisted: Potential benefits and a detailed look at the other cannabinoid, CBG
Improve your health, sleep patterns, and appetite. Combat glaucoma, inflammatory bowel disease, and Huntingdon's disease. Reduce pain, inflammation, and even slow the growth of cancer cells. Also, kill that pesky drug-resistant bacteria and potentially much more!
Sounds amazing!
What is this magic elixir?
Too good to be true or some sort of cannabinoid?
If you answered 'What is cannibigerol (CBG)?' you would be correct.
Hold up, wait a minute… Do you mean CBD???
There are other cannabinoids besides CBD. Do you know the difference between CBD and CBG?
If not, then before reading any further, you should check out these awesome guides for hemp beginners by Rolling Acre. Then, come back to this page for the detailed skinny on CBG.
Don't feel too bad if you've never heard of CBG though. It is really difficult to find in mature hemp plants, making up only about 1-2% of cannabinoids in the plant material, which means cultivating CBG is a rare specialty with less spotlight than it's cannabinoid cousins.
Well, until recently…
You down with CBG? (Yea you know me!)
Now that you are a hemp aficionado, we can break down the lesser-known mother cannabinoid, CBG.
As non-psychoactive cannabinoids, both CBD and CBG offer promising clinical uses, but CBG is finally stepping center-stage with even more potential benefits than good ole' CBD.
Cannabigerol acid converts into all sorts of cannabinoids, but higher yields of CBG may be found in younger plants before photosynthesis changes everything. Photosynthesis is like puberty for plants. Low supplies of CBG isolates cost more than CBD isolates, delaying research efforts, but early animal studies spot plenty of priceless reasons to keep supplies growing.
Welcome to cannabis chemistry class!
Kidding! …(kinda)…
Although we won't dive into the molecular biology of hemp, (check it out here if you want), we will use a few scientific terms and rely on research to discover why CBG may boast the most potential benefits and interactions in the hemp family.
Body movin', we be body movin' – Small biology breakdown
Your body is built to take in cannabinoids and even produces endocannabinoids itself, like anandamide (AEA) and 2-arachidonoylglycerol (2-AG), which you would know if you actually read the CBG guide… 
Also, endocannabinoid receptors, CB1 and CB2, in the central nervous system (your brain) and the peripheral nervous system (your immune system) are responsible for pain-sensation, mood, memory, and appetite, which could be why cannabinoids flex so many potential benefits in those areas.
I am for REAL!! Budding benefits
…(I'm sorry)…
A bit more science coupled with a bright outlook for future remedies ahead.
CBG binds well to both CB1 and CB2 receptors and activates natural responses to combat daily toxins and agitators causing pain, inflammation, and distress in your body.
Now, it's time to take a closer look at the CBG research and possibilities:
Appetite
Glaucoma
IBD (Colitis)
Huntington's Disease and other neurodegenerative diseases
Inflammation
Cancer
Anti-bacterial
And much more:
Don't call it a comeback…
CBG has been around for a long time, but we are finally tapping into it's wonderful potential.
More research in clinical trials is needed before CBG can go mainstream, but current studies show promise for brighter days coupled with cannabinoid supplements.
Cannabinoid research is an important new field with a variety of possible health benefits, especially the anti-inflammatory and anti-cancer properties associated with CBG. Also, just like your mother, CBG encourages other cannabinoids to perform better. The list of possible benefits may continue to grow with more research in the future, and we are HERE for it!