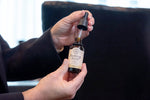 The Importance of CBD Lab Results (Certificate of Analysis)
It is an exciting time for CBD! With its broad availability being so new, this amazing cannabinoid is making its way into daily health regimens, recipes, athletics, and even the occasional cocktail.
The other side of CBD's novelty is that there still is not much regulation of which to speak.
This is why you might've heard of horror stories like a Penn State study finding that around 70% of CBD products online were mislabeled and did not contain the amount of CBD or THC they claimed.
There is no shortage of suspicious claims out there surrounding CBD—trust us, we've heard it all.
When you buy Rolling Acre CBD and CBG tinctures, how can you know that you're getting a safe product?
The answer: The Certificate of Analysis
What is the CBD Certificate of Analysis (COA)?
Simply put, a Certificate of Analysis, or a COA, is a document from an accredited, third-party lab which reports the chemicals found in your CBD/CBG products.
These lab reports should disclose not only the amount of various cannabinoids in a CBD product but also the amounts of any harmful chemicals such as heavy metals or pesticides.
Many COAs will even come with a QR code that you can scan. Scanning the code will direct your phone to the lab's copies of the same report as an extra guarantee that you're seeing the lab's actual results.
It is the staple of any reputable CBD company as well as the assurance of everyone who uses CBD.
How to Read CBD Lab Results
You shouldn't have to be a chemist to know what's in your CBD tinctures. Here are a few helpful hints to reading a Certificate of Analysis.
First, you should be able to clearly see the name and address of the labs that performed the CBD testing—usually in the header of the document but sometimes at the bottom.
You definitely shouldn't trust any COA without this information.
The next thing to catch your eye will likely be rows and columns of numbers that will likely seem like gibberish at first. Some reports are easier to read than others, but they'll all have the information you're looking for.
You're trying to find the percent by volume or the weight per serving size of both the content of CBD as well as Δ9-THC—the psychotropic molecule found in cannabis.
In a CBD product, the amount of CBD should be the highest number, and Δ9-THC should not exceed 0.3% per United States federal mandate.
And don't forget to check the results for heavy metal and pesticide screenings!
For example, our CBD COA shows a total Δ9-THC content of 0.14% (much lower than the federally mandated 0.3%), and 3.66% CBD. You'll also be able to see that no pesticides or heavy metals were detected either (denoted by ND).
You can also find the Certificate of Analysis for our CBG tincture here!
If you still have questions, you can always check out our Ultimate Buyer's Guide or reach out to us here or on our Facebook!